On Air
Andrea Fidelio (Italy)
Kind Circus and visual comedy
A crazy One-Man-Show that sounds like a rave-party !
DJ Busker is in the house and on the loose. Hitting the streets with a bizarre musical universe where the sounds of the street blend with Beat Box, juggling and comedy.
You're gonna see a maestro at work spinning some discs, spinning some hats, and spinning some very unusual wheels. DJ Busker will have you moving to the groove, tapping your feet, and clapping your hands with delight.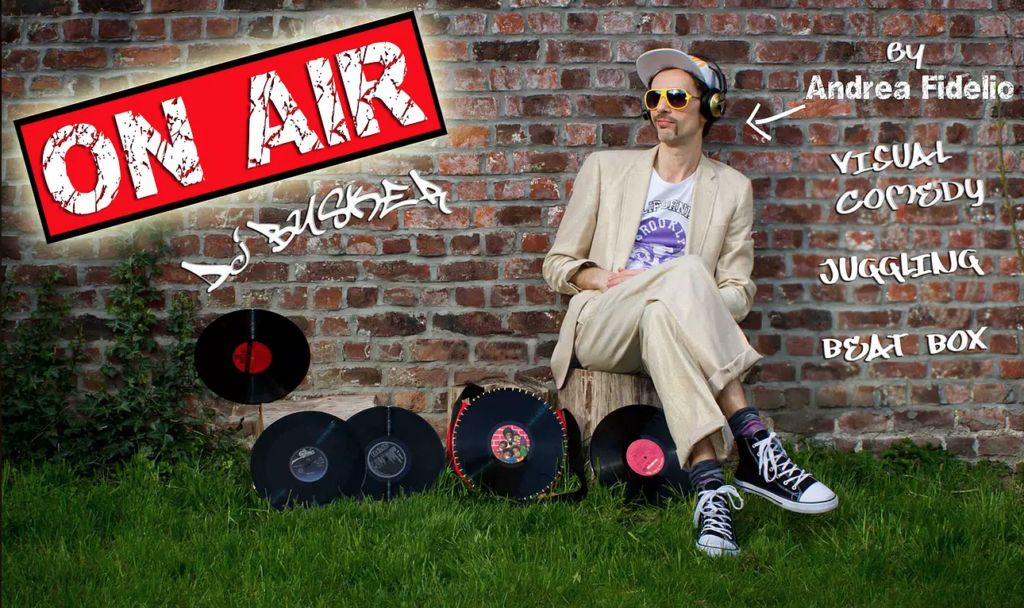 Actor and performer, Andrea Fidelio uses in his shows: physical theater, mime, circus arts, comedy and vocal technics. Specialized in hats manipulation, beat box, juggling, acrobatic swing bike, his research is concentrated on the creation of characters who stay printed in the memory of the audience members.

Actor, dramaturg, magician, artistic consultant, and director. Andrea Fidelio is an artist laureates at the DAMS of Bologna (Department of Arts Music and Scenic arts) and graduated at the «Atelier of Physical Theater Philippe Radice» in Torino. Graduaded in Circus dramaturgy at «Ecole Supérieure des Arts du Cirque of Bruxelles» and «Centre National des Arts du Cirque» of Châlons-en-Champagne in France where he also studied «Écriture magique and Magie nouvelle». ​ He studied circus at Buenos Aires, taking courses at the Circus school and studying funambulism with Ernesto Terry at the circus school Arena. He took different courses and workshops with artists who helped him to develop his creative talent. But it's mainly by performing in the theaters, streets and circus in front of different kinds of audiences that he grew up as an artist. He collaborated with different artists and company as: Teatrino Clandestino, Pietro Babina, Living Theatre, Cie Pool & Freddy, Doble Mandoble, Cirque de la Pointe Sèche, La Bête à Plumes, Open, Cristina Rizzo, Fabrizio Favale passing from physical theater to contemporary theater, from cabaret to street theater and circus, from the performance to video and opera. He's also MC for events and instructor of disciplines from physical theater and circus. His last solo «ON AIR» has won different awards and has been presented more than 400 times in more 15 countries.

A video from France 3 during the festival "Le Bonheur des mômes"

1 Prize One Man Show Cantieri di Strada 2013
National Federation of street arts (FNAS) Italy
1 Prize Artist of the year Festival Strabilandia 2013
1 Prize Sreet eataly Festival Mirabilia & Just for Joy Festival Internazionale del teatro di strada Turate
Original idea : Andrea Fidelio
Outside look : Andréanne Thiboutot
Dramaturgic counselor : Domenico Lannutti
Coaching : Michelin Vandpoel
Production : Andrea & Andréanne
Partners : Espace Catastrophe - Festival Mirabilia - FNAS - Spazio NU
Artistic collaboration : Cecile Guigny